The Great Bridge
The Epic Story of the Building of the Brooklyn Bridge
Publisher: Simon & Schuster; (January 12, 1983)
ISBN-10: 067145711X
ISBN-13: 978-0671457112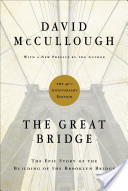 This is the story of the building of the Brooklyn Bridge by John Augustus Roeblings and Washington Roeblings — a father and son team.  In the book whole story including the competitors and the corrupt politicians come to life.   It is also the sad story of how their lack of understanding of what it meant to work in a pressurized environment resulted in painful suffering from the bends.
The Brooklyn Bridge is one of the great engineering feats of the 19th century.  100 years later, it still functions as one of the major accesses to Manhattan.  Few other bridges from that period survive, which demonstrates how cutting edge the Roeblings were.
One of the fascinating techniques was how the stone towers were built in the east river.  They used caissons and dig out the dirt underneth while using pressure to keep the water out.  They then piled the stones of the tower on top of the caissons as they lowered.  I found it fascinating how they arranged the airlocks to keep the pressure in and the water out.   When they got to fifty one feet (a pressure of 24 pounds) they started to observe that some of the workers experience terrible pain when the left the pressurized work.    By the end of the project Washington Roeblings was bed ridden from the unknown disease.
The book covers the how the cables were weaved.  When corruption in the quality of the  cables was discovered, Roebling worked around the problem. The test of time says he was right, the bridge still stands.  The corruption of the Boss Tweed era of New York creates both encouragement and risks to the building of the bridge.
Another outstanding book by David McCullough.
View all my goodreads reviews of history books