The Path Between the Seas
The Creation of the Panama Canal, 1870-1914
Publisher: Simon & Schuster; (October 15, 1978)
ISBN-10: 0671244094
ISBN-13: 978-0671244095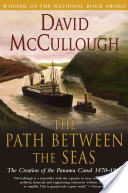 We recently went on a Disney Cruise through the Panama Canal and realized I had not published a review of this great history of the building of the Panama Canal.    I've include a couple pictures of our trip through the Panama Canal.
David McCullough the tells the history of the building the Panama Canal.  He starts with the impact of the California Gold Rush on the Panama Isthmus's 51 mile separation of the Pacific and Atlantic. The 49ers transit across the isthmus was by boats up the often dangerous Chagres River and then by mules for the final 20 miles over the old Spanish trails – which had not been well maintained.
The railroad -built in 1850 – became one of the most profitable in the world, charging up to $25 per passenger to travel cross the isthmus.  Until the opening of thePanama Canal, it carried the heaviest volume of freight per unit length of any railroad in the world.
McCullough tells of the sad story of French entrepreneur Ferdinand de Lesseps who went bankrupt while trying to build a sea level canal.
Then President Theodore Roosevelt enters the picture by orchestrating a revolution that removed the Panama Isthmus from Colombian rule.  The new Panamanian government allied the US to  placed The canal zone squarely in American Control.
The story of the Panama Canal is complex, full of heroes, villains, and victims. McCullough's long, richly detailed, and eminently literate book pays homage to an immense undertaking.
Pictures of Panama Canal
Here are some pictures of our trip through the Panama Canal on May 9, 2014.